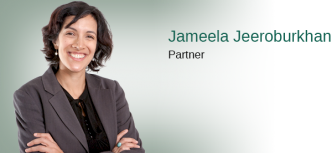 Jameela Jeeroburkhan became associated with Dionne Schulze in 2010 and practices in areas including housing, taxation and specific claims. She has experience in the preparation of complex litigation on behalf of Aboriginal clients and she has appeared before the Federal Courts of Canada, the Superior Court of Quebec, the Quebec Court of Appeal and the Ontario Court of Appeal.
In addition to her litigation experience, Jameela Jeeroburkhan works on issues of community governance, including by-law development and policy-making. She has also negotiated with the federal and provincial governments, as well as industry, on behalf of Aboriginal communities.
Jameela Jeeroburkhan is fluent in English and French and has functional knowledge of Spanish and Mauritian Creole.
Education
LL.B/B. Civ., McGill University, 2005
B.A., Anthropology (Honours), McGill University 2000
Publications and papers
Speaker, "The Truth and Reconciliation's Calls to Action: Taking Action towards Reconciliation," 2016 teleconference presentation to the Public Sector Lawyers' Forum, Canadian Bar Association.
Moderator, "Negotiating Treaties," 2011 Aboriginal Law Conference, Canadian Bar Association, Winnipeg.
"The Role of Elders and Oral History Evidence in the Courts," co-authored with Peter W. Hutchins and Lysane Cree, February 2008, prepared for the Canadian Bar Association's 2008 Aboriginal Law CLE.
"Pre-Confederation Claims and Federal and Provincial Obligations: a Survey of the Applicable Law," co-authored with David Schulze and Peter W. Hutchins, prepared for the Indian Claims Commission, November 2005.
Professional and volunteer activities
Quebec Bar
Canadian Bar Association (CBA) – National Aboriginal Law Section, Executive Committee member
Member, Canadian Muslim Lawyers' Association, Quebec branch
Supervising lawyer, McGill Legal Clinic at the Native Friendship Centre of Montreal (NFCM)